For a company that has spent a fortune on PR and marketing, flexible office provider WeWork is on the ropes in the court of public opinion.
WeWork's planned IPO – which valued the company at a mouth-watering $47bn – was pulled and co-founder and CEO Adam Neumann stepped down as investors took flight.
What went wrong at WeWork and, more importantly, what happens next?
Richard Morris isn't the first name you'd expect to come to the defence of a rival but the CEO in the UK for International Workplace Group (IWG) says there will be no winners if WeWork go to the wall.
IWG's best known brand is Regus but also includes Spaces, HQ, Signature by Regus, No18 and Basepoint. For years they've benefited from the jet stream of publicity around flexible workspace generated by big-spending WeWork.
There didn't seem to be any hint of trouble in June this year when Greater Manchester Mayor Andy Burnham opened WeWork's third, and biggest space, in the city in Dalton Place alongside Mathieu Proust, general manager of WeWork UK & Ireland.
According to the press release across all three locations in Manchester – No.1 Spinningfields, St. Peter's Square and Dalton Place – over 2,000 members could now "connect and collaborate on a daily basis".
It was also announced that Dalton Place would be home to WeWork Labs, a home for early-stage startups that take a "personalised approach to supporting entrepreneurs".
The new workspaces in Manchester brought the number of WeWork locations to 105 cities and 28 countries around the world, boasting 466,000 WeWork members worldwide.
WeWork did the impossible by making flexible and co-working space sexy but now the music has stopped. Question marks linger over its future with speculation growing that it could run out of money and will have to cut its workforce.
New York-based WeWork has never shown a profit, which isn't unusual in high-growth, cash-burning tech businesses. The problem is critics say that once you cut through the hype it's not a tech company at all but a real estate one.
When the company chose Manchester as its first UK city outside of London to expand into, rumours were rife about the sort of deals being offered to attract companies to move in.
One very interested party has been property group IWG, which has 400 sites in the UK but plans to increase it to 3,000 as workers turn their back on long commutes into work. While WeWork has never made a profit, IWG has revenues of circa $3bn and profits of just under £200m.
"First of all we don't want them to collapse," insists Morris (pictured above). "We believe they've changed our industry in a very good way. The industry's a beneficiary from what they've done because they've increased the understanding and awareness of flexible work space amongst customers, property owners and investors."
However unlike WeWork, IWG doesn't fundamentally regard itself as a tech business.
"We regard ourselves as a service company that is responding to tech- driven change in how companies want to be able to use real estate," explains Morris. "Our whole mission is to enable companies to harness technology to allow their people to work more productively."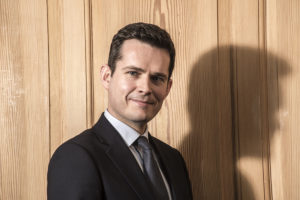 Morris (pictured above) has been around long enough not to criticise WeWork but says the length of their rival's leases – reported to be between 20 and 25 years – is more than twice their own average of 10 years.
"10 years is a long time," he says. "Beyond that we like to have our options remain open in case there's a need to change the scale and size or location of where we have our footprint. They (WeWork) have $50 billion of lease liabilities over the next 20 years or so."
A fundamental principle of business is that the price is higher than the cost, which is where WeWork has come unstuck.
"We're a publicly traded company so we have a very, very high level of disclosure and scrutiny on how we're running our business and the financial aspects of that," explains Morris. "The idea that we would be able to continue for a long period where costs are very significantly higher than revenues, it's just not an option for a publicly traded company.
"We always knew that the ambition was for them (WeWork) to go public. Naturally they have to access more capital, in order to underpin and fuel the growth ambitions. In hindsight, I'm sure there are things that they would have done differently.
"In my view, if you want to go to the public markets, you have to be able to articulate a road map to profitability. For me, I, as an investor myself, would find it difficult to part with my hard earned cash if I couldn't see a clear, compelling articulation of the strategy to get from multibillion dollar losses to profitability.
"Maybe that was the key thing that, in the end, made it come unstuck."
Chris Maguire is the executive editor of BusinessCloud and the founder of iMeg Partnership